DPMG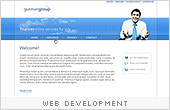 Defining Presence Marketing Group specializes in delivering strategic online business and bottom-line solutions as well as affiliate marketing services, which cover search engine submission, monitoring and reporting, Pay-Per-Click management. All these services contribute to drive targeted traffic to their customers websites and therefore guarantee optimal business management performance.
In an extremely crowded and highly competitive business environment, online marketing strategies have become real necessities.
This is where we step in. The modular architecture of the solutions adopted and implemented through the development of highly customizable, flexible and autonomous web applications, complemented by search engine optimization techniques (key phrase research, keyword optimization, submission and indexing, organic seo) has yielded the efficiency and elegance of these powerful tools which accelerate business performances, propelling them to superior levels.
The designed and developed solutions have been complemented by user-friendly interfaces and distinctive, powerful, target-oriented visual identities. The very foundation of our partnership with DPMG consists in our long-term, productive fruitful cooperation, the high quality of our services as well as the strong synergy with our team and the 2-way information exchange.